STILL WAITING FOR A HOME
Our spotlighted animals are ones that might not be considered as readily adoptable, whether due to their age, color, specific requirements, or simply because they've been overlooked for inexplicable reasons.

GARTH & PHOEBE
Are you ready to open your heart and home to two extraordinary feline companions? Garth and Phoebe, a dynamic duo bonded by love and friendship, are in desperate need of a new forever home. These remarkable 7-year-old cats are searching for a brighter future after their previous owners had to surrender them due to allergies. Now, they are eagerly awaiting the chance to bring boundless joy and affection into your life.

A Special Bond: Garth and Phoebe share an extraordinary bond that has endured for seven wonderful years. Separating them would be heartbreaking and detrimental to their well-being. By adopting both cats, you become their hero, providing them with the loving and stable environment they need to thrive and support each other. Together, you'll embark on an extraordinary journey that will leave an indelible mark on your heart for years to come.

Meet Garth: Garth is a charismatic and affectionate cat who thrives in the company of people. He has a remarkable connection with children and loves playing with string toys, climbing to high places, and keeping a watchful eye on the neighborhood squirrels from the windows. Get ready for an entertaining whirlwind as Garth showers you with love and playful antics!

Meet Phoebe: Phoebe, an enchanting female with a charming but quirky personality, dreams of finding her forever home alongside her dear friend Garth. While she enjoys human companionship, she prefers a calm environment without the exuberance of children. Phoebe loves to join her humans during relaxation time, snuggling close as they watch TV. Although she may not engage in lengthy play sessions, the moments she devotes to toys will bring joy to your heart. Her fascination with squirrels will captivate you as she watches them from the windowsill.

Special Care and Diet: Garth and Phoebe have carried a few extra pounds since their surrender in February 2023, so they require a loving home that can provide them with proper care and a nourishing diet. Currently, they thrive on a small amount of Purina Proplan Weight Management and split a Sheba Perfect Portions twice a day. Your commitment to their well-being will help them achieve their ideal weight and live their best lives.

Don't miss the chance to welcome Garth and Phoebe into your family. Their unwavering bond and unique personalities make them the perfect addition to a loving home. If you're interested in adopting this extraordinary pair or learning more about them, please contact us today. Together, you can create a future filled with love, laughter, and unforgettable moments. Adopt Garth and Phoebe, and be a part of their heartwarming journey!

Adopting this pair from our rescue includes several important health services along with a trial period. The adoption fee of $200 for the pair covers spay/neuter, FIV/FeLV testing, bloodwork, and age-appropriate vaccinations to ensure the health and well-being of the cat. Garth and Phoebe have also had recent blood panels done.




APPLY FOR GARTH & PHOEBE
SADIE
Are you looking for a furry friend who's ready to share their heart and home with you? Look no further than Sadie, our charming 11-year-old Corgi mix who's been patiently waiting for her forever home. Despite her years, Sadie is full of love, life, and has so much to offer to the right family.
About Sadie:
Age: 11 years
Breed: Corgi mix
Health: Up to date on shots and spayed
Background: Sadie's previous owner could no longer care for her, but she's now safe and sound in our rescue's loving arms.
Ideal Home: Sadie has a few preferences when it comes to her forever home. She would thrive as the only pet, so she can have all your love and attention. Additionally, Sadie would be most comfortable in a household without cats and with no young children. Older kids or a calm, adult environment would suit her best.
Why Choose Sadie:
Companion Extraordinaire: Sadie is the perfect companion for someone who's home a lot and craves the company of a loyal, loving dog. She'll be your steadfast friend through thick and thin.
Calm and Well-Behaved: At 11 years old, Sadie is past her puppy years and is well-mannered. You won't have to worry about the energetic antics of a young pup.
Experienced and Loving: She's seen a lot in her years, which means she's experienced in the art of love and companionship. You'll be amazed at the depth of connection you can share with Sadie.
Get to Know Sadie: Our dedicated foster caregivers have spent time getting to know Sadie's personality and quirks. They can provide you with valuable insights into her likes, dislikes, and daily routine. Feel free to reach out to them for a more in-depth understanding of what life with Sadie would be like.
Don't let Sadie wait any longer for her forever family. If you're ready to provide her with the love and care she deserves, please get in touch with us today to arrange a meeting. Together, you can embark on a heartwarming journey filled with love, companionship, and cherished moments.
Contact us to schedule a meet-and-greet with Sadie and discover the joy of adopting a seasoned sweetheart who's ready to share her golden years with you. Remember, sometimes the most precious gems are the ones that have waited the longest.
APPLY FOR SADIE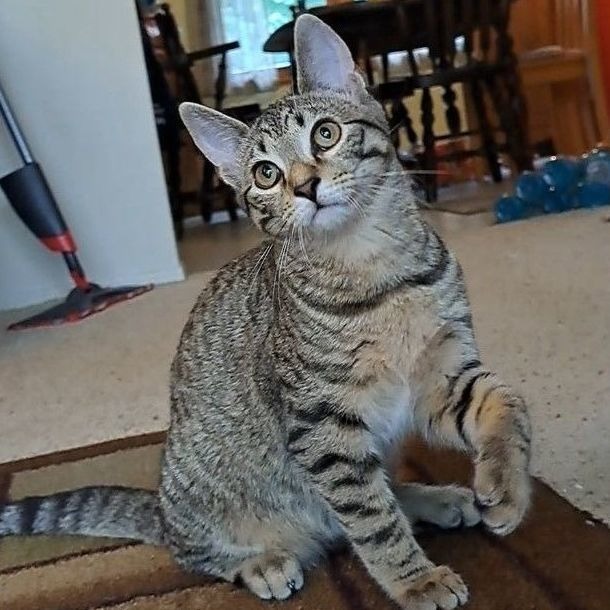 MEW
Are you ready to welcome a new furry family member into your home? Look no further than Mew, our beloved featured adoptable kitten! Mew has been patiently waiting for her forever home, and we can't wait to introduce you to this charming, brown tabby sweetheart.
Mew's Unique Features:
Appearance: Mew is a stunning female brown tabby with adorable little stripy spots along her sides. Her coat is not only beautiful but also incredibly soft to the touch.
Personality: Mew is the perfect combination of playful and laid-back. She has a heart of gold and a gentle spirit. Her affectionate nature will make her an instant member of your family.
Companion: Mew is a people-loving feline companion who enjoys keeping you company throughout your daily activities. Whether you're doing chores, reading a book, or binge-watching your favorite show, she'll be right there with you, making each moment more special.
Social Butterfly: Mew was born in a foster home, surrounded by love and care. She currently shares her space with multiple young adult cats, and she loves to engage in activities like chasing, wrestling, grooming, and cuddling with her feline friends.
Ideal Home: Mew thrives in the company of other cats and would be happiest in a home where she can be adopted with another kitten or to a household with other young cats. She has also had positive experiences with calm dogs, making her a versatile addition to various family dynamics. If you have school-aged children, Mew will fit right in, as she is accustomed to an active household and is not the type to shy away from noise or unfamiliar faces.
Mew's Background: Mew was born in March 2023 in a foster home, where her mother was lovingly cared for after being rescued from a shelter while pregnant. Despite her challenging start in life, Mew's siblings and mother have all found their forever homes. We can't quite explain why Mew is still waiting for her special family, but we are confident that the right home is out there, waiting to welcome this deserving kitten with open arms.
Don't miss the chance to make Mew a part of your life. She's ready to share her love, purrs, and playful antics with a family that will cherish her forever. If you're interested in adopting Mew or learning more about her, please contact us today. Let's ensure that Mew's journey to her forever home ends happily with you!
The adoption fee of $150 (per kitten) covers spay/neuter, FIV/FeLV testing, and age-appropriate vaccinations to ensure the health and well-being of the cat.

APPLY FOR MEW